Home Energy Tips & Information: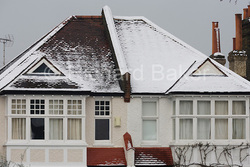 Can you tell the difference between these two housing units?

The unit on the right has proper insulation, while the unit on the left has less proper insulation and experiences heat loss that melts the snow on the roof.


Is your home drafty? Have you been refueling often during this cold winter? Ever thought about trying to lower heating costs?



The first step in embarking on this process is to conduct an energy audit of your home. The audit will map out any deficiencies and suggest ways to fix the problems and associated costs. Local energy audit firms are listed below. Financing of energy projects is available through local credit unions and banks

Interested in this process but not sure where to start? Send us an email and we'd be happy to answers questions or assist with the process.

---
---
---
Energy Auditors working in the Dorset Area

NeighborWorks Of Western Vermont
110 Marble Street
West Rutland, VT 05777
(802) 438-2303
www.heatsquad.org

Weatherization Works
PO Box 45
Pawlet, VT 05761
(802) 733-1063
www.weatherizationworks.com

Energy Conservation Organization, LLC
4995 Sandgate Road
Sandgate, VT 05250
(413) 648-9130
www.vermontcellulose.com

Vermont Foam Insulation, Inc.
1897 Brockways Mills Rd
Chester, VT 05143
(802) 463-1450
www.vermontfoaminsulation.com

Thermal House
19 Bennett Drive
Brattleboro, VT 05301
(802) 874-7222
www.thermalhouse.com

Building Energy/ Northeast Contractors:
1570 South Brownell Road
Williston, VT 05495
p: (802) 859-3384
f: (802) 658-3982
www.buildingenergyvt.com



---
Energy Contractors and related links:

---
---
Financing & Incentive Partners:

---
Energy Related reading and information:

· Rocky Mountain Institute: www.rmi.org

· "Reinventing Fire" by Amory Levens

· "Hot Flat & Crowded" by Thomas Friedman