Design Review Board Mailing Address: PO Box 715 East Dorset, VT 05253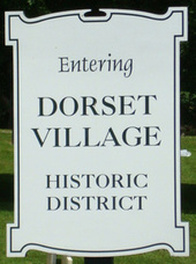 Dorset Design Review Board Members:
Kit Wallace, Chair
Peter Palmer
James Clubb
Lindy Bowden
Arnie Gottlieb
Ruth Tanenhaus
The
Design Review Board
is responsible for implementing Section 9 of the Dorset Zoning Bylaw. This design regulation provides oversight to the design zoning district which includes 3 national register historic districts. Design criteria regulate the appearance of buildings and landscaping within the district as laid out under Section 9. This process preserves the unique New England village characteristics of Dorset Village and the immediate area that surrounds it.
The Design Review Board meets on the third Monday of the month at 5:30pm at the Town Offices.

Dorset, Vermont is home to 4 national register historic districts:
Kent Neigbhorhood District (1978), this district is located in and around the intersection of Nichols Hill Road and Dorset West Road.
Dorset Village District (1985), this district is located in the heart of Dorset Village along Church Street and Route 30 from the Maple Hill Cemetery to just north of the Dorset Inn.
Dorset Village West District (1997), this district is located in and around the intersection of Church Street and Dorset West Road.
Dorset Field Club District (2011), this district encompasses the Dorset Field Club which was established in 1886 and is the oldest continuously played golf course in the country.

The Dorset Village Historic District is also home to the Dorset Inn (circa 1796), Dorset Union Store (also known as Peltier's, circa 1816), the United Church of Dorset & East Rupert (circa 1796), and the Dorset Village Library (circa 1870)
The Dorset Design District includes the Dorset Village, Village West, and Dorset Field Club Districts.
Owners or prospective buyers of property within the boundaries of the Design District should review Section 9 of the Zoning Bylaw before they embark on improvement or expansion projects for their property.
The Zoning Administrator is available to assist with this process.
---
---
---